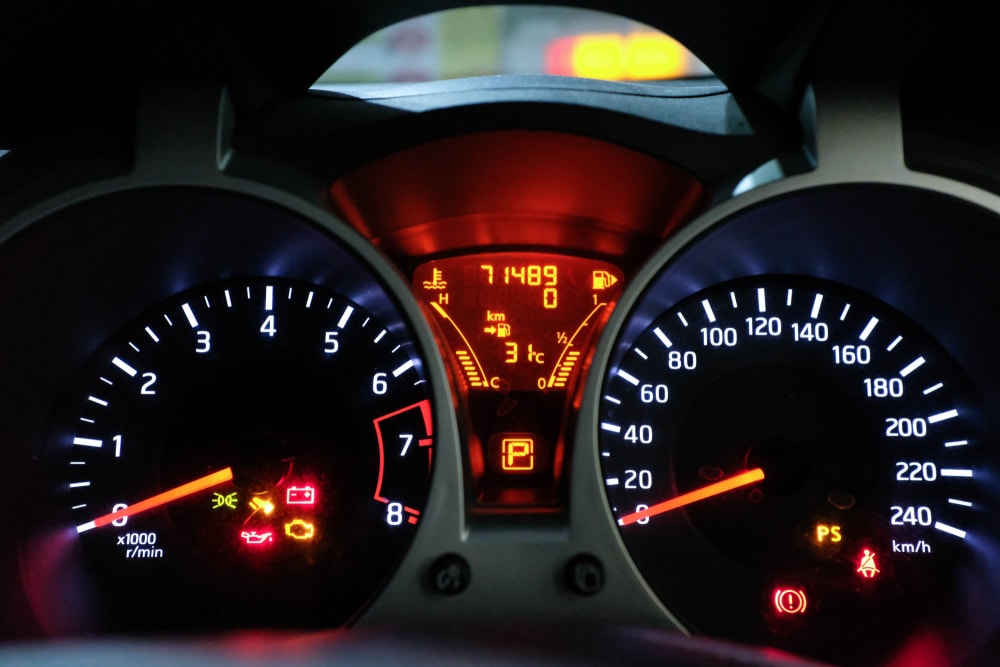 So, you're driving along, maybe listening to the radio, and what's this? Your Check Engine light turns on! What do you do?
We've all been there. At Lithia Nissan of Fresno, we want you to be safe and informed while on the road, so we've put together a list of the five most important indicator lights on your dashboard. We're here to explain what they mean, and what you should do to address them.
Check Engine Light
Chances are you've seen this light before. It's one of the most common - and also one of the most dreaded - as it can mean any number of things. The light can be triggered by something as simple as leaving your gas cap open after filling up, or it could indicate a more serious engine issue that needs attention from a trained professional. If the Check Engine Light is flashing, pull over immediately and have your vehicle towed to a trusted service facility. The flashing light indicates the engine is misfiring and prolonged driving could cause permanent and costly damage. If the light is solid, your best bet is to seek professional assistance as soon as possible. A computer will be attached to your vehicle's electronic system and a Diagnostic Trouble Code will be downloaded: the first step in the diagnostic process. Keep in mind that the code won't necessarily indicate which part needs to be replaced to correct the issue - only which part or vehicle system set the code. Whether the light is flashing or steady, we recommend bringing your vehicle to our technologically advanced
service center
at Lithia Nissan of Fresno so we can accurately diagnose and resolve the issue to get you back on the road!
Tire Pressure Light
Another very common but important indicator is the Tire Pressure Light, which is related to the level of air in your tires. Under-inflated tires can cause a number of issues, including decreased MPG and compromised handling. Even if your vehicle is equipped with technology that shows you which tire needs attention, it's still a good habit to check all four (and the spare, if equipped) to verify whether any other tires could use a top off. This is especially important during seasonal weather changes when the outside temperature can cause significant swings in tire pressure. To get the most accurate numbers, check your tires when they are "cold" (before you've driven the vehicle). Be sure to reference the tire pressures indicated on the door jam or fuel lid, not the pressure listed on the tires, which indicate the maximum pressure the tire can hold. If only one tire requires adjustment, carefully inspect the tire in question for damage. Simple holes caused by nails or screws can often be repaired so long as the damage is not too close to the sidewall. Keep in mind that many newer pressure monitoring systems do require programming when the tire pressures are adjusted. This is how your vehicle computer knows when a tire falls below an acceptable pressure range. If your Tire Pressure Light comes on, skip the guesswork and stop into our service drive and we'll adjust your Nissan's tire pressure at no charge!
Engine Oil Pressure Light
The Engine Oil Pressure Light most frequently indicates that the engine is low on oil, often due to an oil leak or possibly a long-overdue oil service. Keep in mind that even though you may not see oil on the ground under your vehicle, it does not mean there is not an issue. Oil can seep down from a higher point on the engine onto other, lower, vehicle components and not necessarily make it all the way to your driveway. A situation such as this could be a potential fire hazard so if the Engine Oil Pressure Light illuminates, be sure to give us a call right away.
Electrical System Light
Let's talk about the Electrical System Light. Often mistaken for simply a battery power
light, it actually pertains to the entire electrical charging system, including the alternator which recharges the battery with regular driving. This is another light you should address immediately should it illuminate. The last thing you want is to be left stranded and unable to start your car. Should you find yourself in this unfortunate situation, it's reassuring to know that new and
certified pre-owned Nissan
vehicles come standard with complimentary 24/7 Emergency Roadside Assistance! In addition to a battery jump-start, a few of the other benefits are flat tire replacement with your vehicle's spare, lockout assistance, and up to two gallons of fuel!
Coolant Temperature Light
This one is pretty straightforward. Your engine is overheating. Safely pull to the side of the road and allow the engine to cool back down to its normal operating temperature. Never remove the radiator cap while the engine is hot as the system is pressured and you could be seriously injured. Once the engine has cooled, drive the vehicle to your nearby service center while carefully monitoring the engine temperature. A vehicle tow would be an excellent (and recommended) option as well.
These are just a few of the indicator lights on your vehicle's dashboard. If you have any questions about them, refer to your owner's manual or give us a call at
Lithia Nissan of Fresno
. Our experienced team is ready and happy to assist you! If you're in the market for a
new car
,
truck
or
SUV
, stop by our store today to shop our big selection of new
Nissan Rogues
,
Sentras
,
Kicks
,
Muranos
, and
Versas
. Keep in mind that we
service
and sell a variety of used makes and models as well, including
Honda
,
Toyota
,
Ford
, and
Chevy
! We're your one-stop-shop for all of Fresno's
new
and
pre-owned
shopping needs. ¡Hablamos Español!